The cryptocurrency known as XRP, also called Ripple, has been among the worst performing crypto assets throughout the year of 2019.
While many crypto investors are expecting the massively oversold asset that's long been in a downtrend to finally reverse and return to former high prices, one crypto analyst believes that Ripple's distribution is almost complete, and a mark down phase will soon follow. Such an event would take the price of the cryptocurrency even lower, back to levels not seen since early 2017.
Ripple Ready for Mark Down Phase Following Grueling Two-Year XRP Distribution
XRP, the native cryptocurrency token of the Ripple protocol, is currently trading at roughly 22 cents per XRP. The crypto asset is down over 90% from its all-time high of $3.84 it set back in early 2018, just before the crypto bubble popped and altcoins fell into a deep downtrend and extended crypto winter.
Even throughout 2019, as Bitcoin and other altcoins began to regain lost ground, XRP has continued to set new, lower lows, and even failed to rally around the annual Ripple Swell conference. In the past, the event led to extreme pumps in the asset's price.
Related Reading | Annual XRP Swell Pump Amounts To Bearish Ripple Retest 
This year, however, there was barely a ripple, let alone the asset skyrocketing from news stemming from the annual event focused on the future of the finance industry.
Because Ripple has failed to set any new highs, one crypto analyst believes that the asset's distribution phase is almost complete, and what comes next is a violent mark down phase that could possibly take the price of the crypto asset to as low as a penny per XRP.
Ripple, time and price will tell the story. pic.twitter.com/rXvWGNB5c0

— Moe (@Moe_mentum_) December 11, 2019
According to a chart shared by the analyst, XRP can clearly be seen entering an accumulation phase. After that, mark up occurred, leading to the reaccumulation of Ripple higher before another advance. The final advance completes, and thus begins distribution, which has lasted all of 2018 and 2019 according to the schematic.
The chart and patterns depicted very closely match up against Wyckoff Theory schematics. Richard Wyckoff believed all assets went through four distinct phases of price action: accumulation, mark up, distribution, and mark down.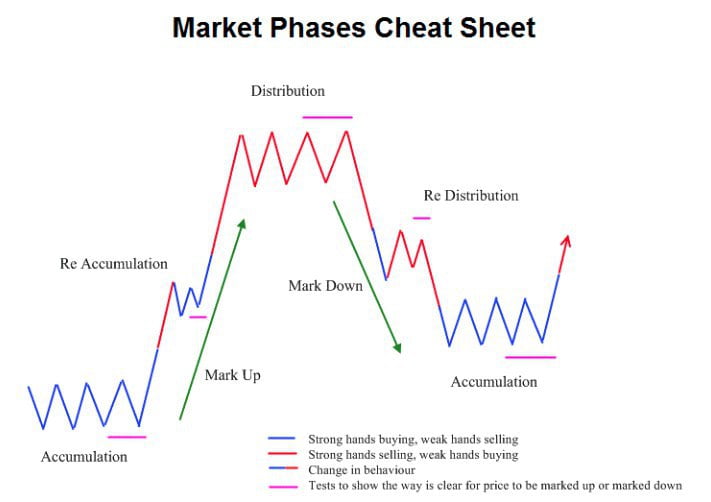 If the patterns of on XRP price charts do indeed play out confirming distribution was taking place, the price of Ripple could fall to support levels below located at 5 cents per XRP, to as low as 1 cent per XRP token.
Related Reading | Ripple Whale: It Only Takes $20,000 To Become a XRP One-Percenter 
Such a drop would eliminate the entire 2017 bull run from Ripple's existence, and take the price of the asset back to levels not seen since 2014 through early 2017, before crypto became a household name and the bubble eventually popped.