Today, we will be analyzing some of the historical price movements of ADA as well as its development status in order to formulate a Cardano price prediction for December.
Cardano Overview
Cardanois the blockchain platform in which the ADA cryptocurrency facilitates the direct transfers of digital funds.
The platform was also designed to run financial applications for both institutional and individual use. What is unique about the Cardano blockchain is its layered structure that has been developed from scratch in order to provide flexibility for future upgrades of a soft fork.
Cardano currently ranks 14th, with a market cap of $831.282.604, and a 24-hour volume of $53.183.218. It is priced at $0,032062, at the time of writing. There are currently 25.927.070.538 ADA in circulation out of a total supply of 31.112.483.745 ADA.
Cardano Price Prediction: Analysis
At the start of December, things seemed positive for ADA, as it began the month trading at $0,040426. However, in the following weeks, ADA declined gradually from one low support level to another.
Starting with December 10th, ADA's price started trading below $0.0375 against the US Dollar, continuing the bearish trend. On December 15th, the ADA/USD pair gained bearish momentum below the $0.0350 support.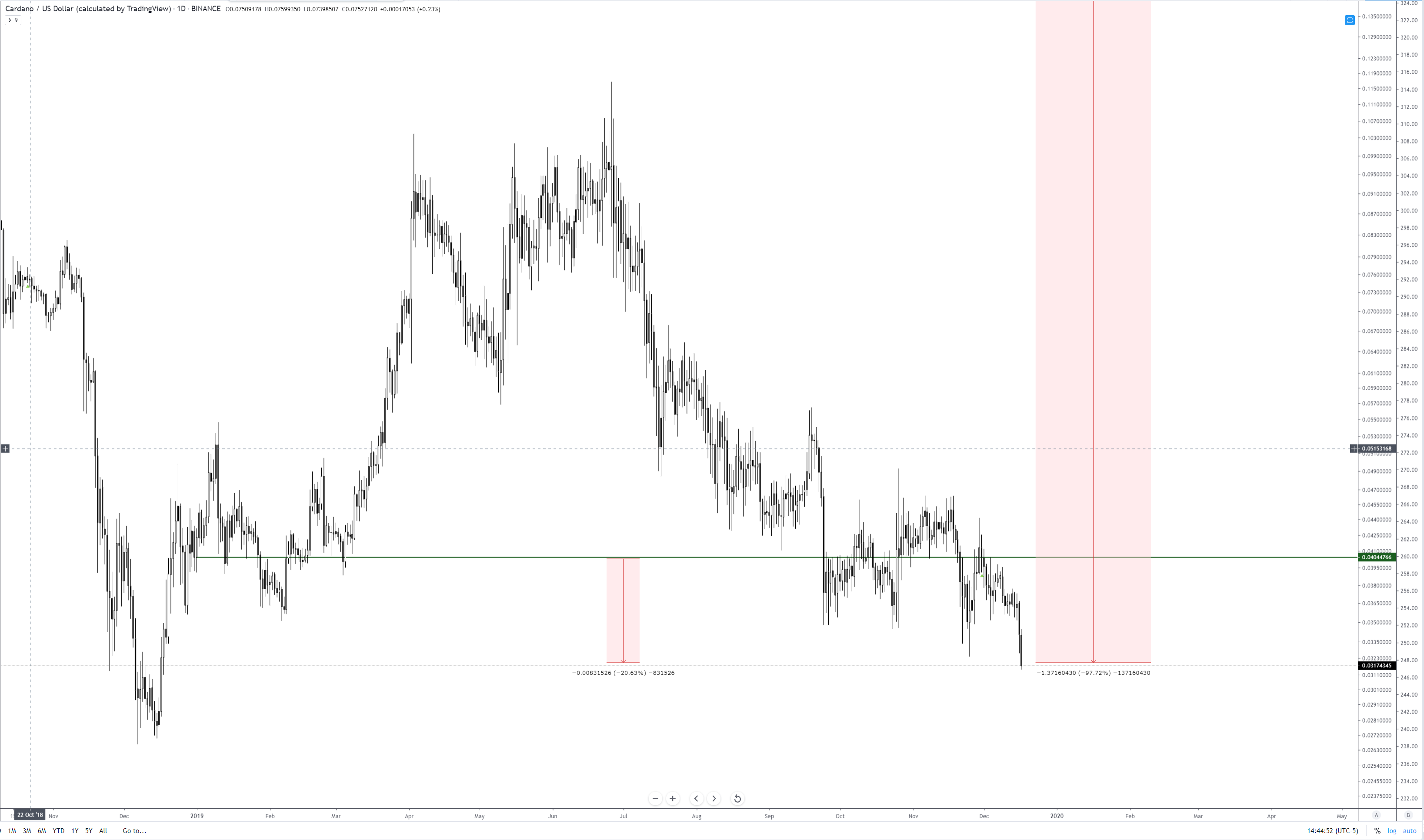 This triggered more losses, and on December 17th, the ADA price dipped below the $0.0330 level, trading close to the $0.0300 level, setting a new low for the past months at the $0.0312 level.
December 17th saw Cardano opening at $0.0337. The price went up to $0.0341 by 1.01, but then it dropped to $0.0334 by 1.89%.
The coin then dropped to $0.0327 by 2.28%, with another slip later on to $0.0314 by 4.22%. ADA closed the day at 0.0317 by 1.02%.
The intraday drop in the price of ADA recorded a loss of 6.07%.
Today, December 20th, the coin began the day with a decrease of 1.60 at a price of $0.03309. An initial resistance is set near the $0.0325 level, with the first major resistance near the $0.0332 area (the recent breakdown zone).
The main resistance level is set at the $0.0355 price (the main breakdown support). Consequently, a break over the $0.0355 resistance would mean a strong recovery for the price.
Source:namecoinsnews
Charts are showing that ADA manifests bearish signs below the $0.0332 and $0.0355 resistance levels. The coin has a chance of recovering if there is no clear break below the $0.0300 support level. However, Cardano is indicating a strong chance of slipping to the immediate support level at $0.0306, which could then lead to a new low of $0.0294.
The calculated resistance, pivot, and support levels of WalletInvestor are:
Resistance Level (R3): 0.0366
Resistance Level (R2): 0.0354
Resistance Level (R1): 0.0336
Pivot Point: 0.0325
Support Level (S1): 0.03066
Support Level (S2): 0.0295
Support Level (S3): 0.0277
Developments
While Cardano does have an ambitious roadmap from a technical standpoint, the problem is that the project is moving slowly with its development, with the team stating that they want to be thorough and do things right. Over the past two years, Cardano has been developing and testing its PoS system.
After the "Shelly" upgrade, Cardano announced that it was working on an upgrade that would enable smart contract functionality for dApp development. The Shelly, Goguen, and Basho upgrades are scheduled for completion by the end of 2020.
Recently, in December, Cardano's (ADA) testnet went live,which means that users can actively stake coins. This is a massive deal in the cryptocurrency space – a big deal for decentralized cryptocurrencies. Cardano currently has more staking pools than EOS and Tron put together while it is still in the testnet phase. While this represented a very bullish event for Cardano, there have been no positive price fluctuations caused by the event.
Cardano Price Prediction: Market Opinion for December 2019
As various sites have released their own Cardano Price prediction for December, we have decided to incorporate a few of them to help you get a better feel of the market sentiment.
CoinSwitch
CoinSwitchpredicted that in the last month of 2019, ADA might hit the $0.40 mark, with a maximum expected price of $0.41.
WalletInvestor
WalletInvestor.com predicted that by the end of 2019, Cardano will have a trading price of $0.029.
Longforecast
Longforecast forecasted that ADA would start the month of December at $0.042. The site estimated that the maximum price for the month would be around $0.042, while the minimum price would be set at $0.023. The average for the month was calculated at $0.033. The site expects the site to close the month at $0.025, change for December -40.5%.
30rates
According to 30rates, ADA would have on December, 31, a minimum price of $0.023, a maximum of $0.027, and a closing price of $0.025.
Digitalcoinprice
Digitalcoinpriceestimated that in December 2019, Cardano would be trading at $0.05593186, with an increase of 74.16 %.
Cardano Price Prediction: Verdict
This has been our Cardano price prediction for December 2019. We hope that the information we have provided will be of help to you in your future ADA trading endeavors.
Featured image: hacked.com