Yesterday, on December 4th, the Global Fintech Index (GFI) went live, placing Lithuania at the 4th place in Fintech's top 10 list with CoinGate at the forefront representing the leaders of the local ecosystem.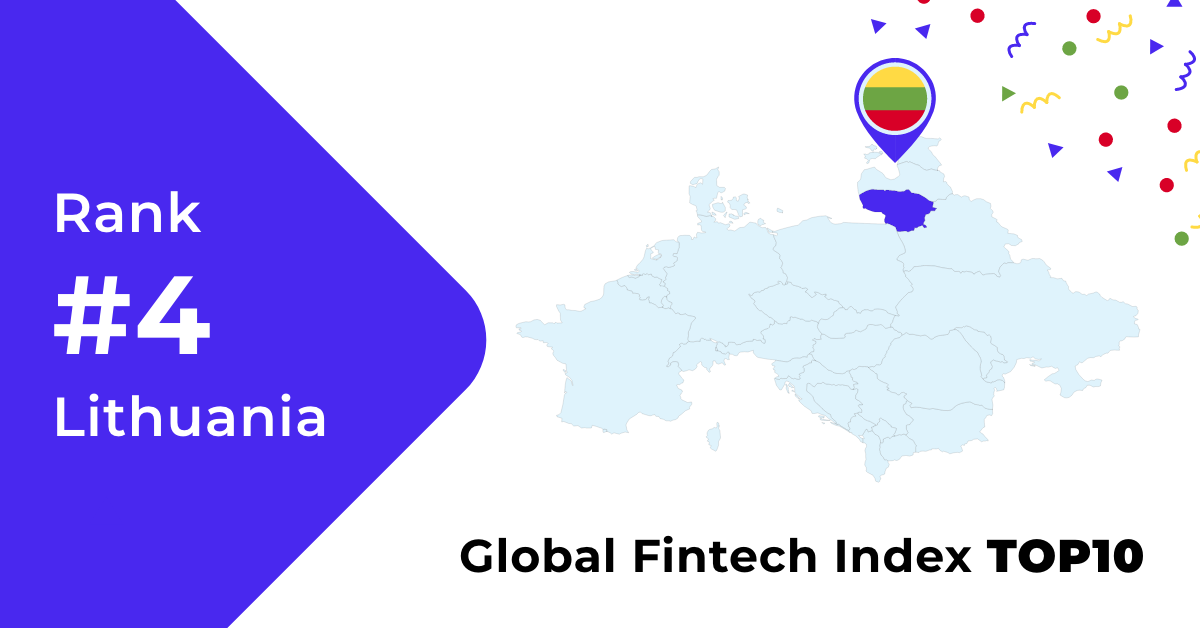 According to the project's official website, the GFI is the first real-time index designed to rank fintech activity globally. Its purpose is to help understand the scale and scope of fintech activity in different regions of the world, as well as potential markets to invest in or keep an eye on. 
The indexing algorithm analyzes fintech ecosystems of 230+ cities across 65 countries and relies on data provided by the project's partners StartupBlink, Crunchbase, Semrush and others. 
The rankings are comprised of three metrics: (1) quantity and size of fintechs, hubs, supporting institutions and similar; (2) quality, or impact and performance of fintechs, including investments, value generation, etc.; (3) environment, which includes country's regulatory interventions, internet censorship, incentives, education, etc.
The transparency of such index makes it an extremely useful tool for entrepreneurs, early-stage companies, investors, policymakers and even educational institutions to benchmark and analyse fintech markets, categories, companies and products.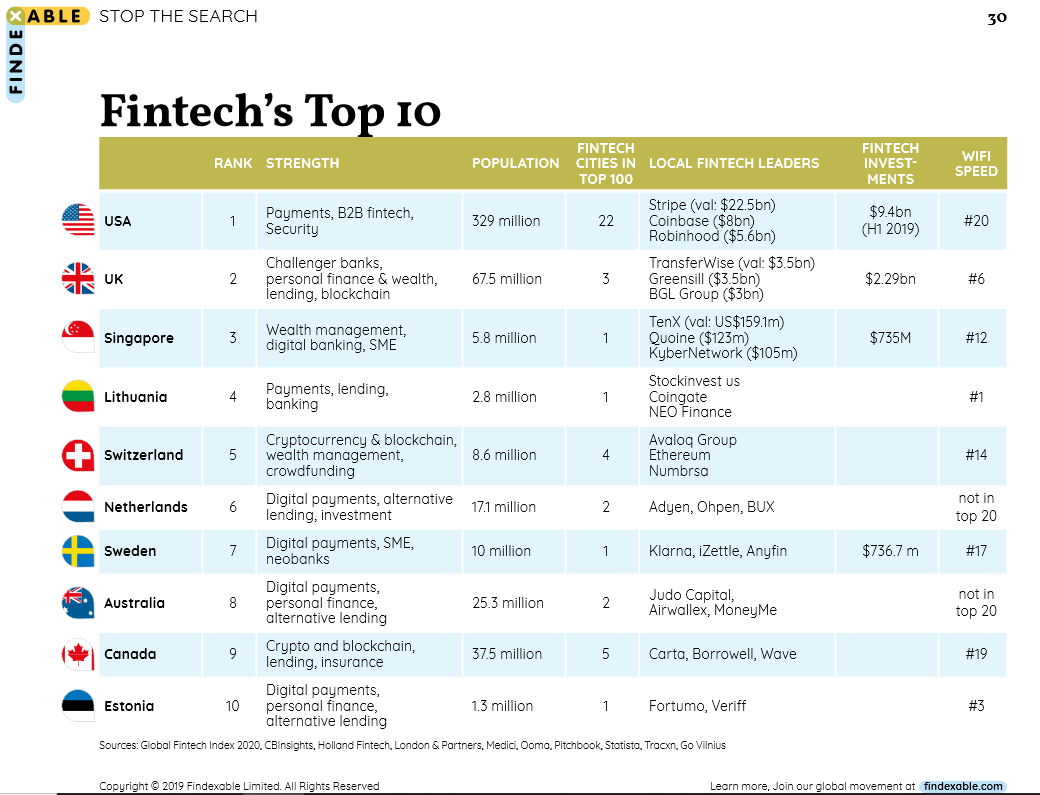 The report itself is quite extensive, reviewing the state of fintech nations and cities in detail and covering topics like gender diversity in today's fintech climate, so there's plenty of interesting information to go through. 
If you want to dive deeper, you can find the full report here. But what we want to focus on is Lithuania and us!
We are local leaders of the market!
Not only Lithuania is ranked at #4 worldwide – our home city Vilnius also has made it to the #29 place in global Fintech hub city rankings, identifying CoinGate as one of three local companies to keep an eye on!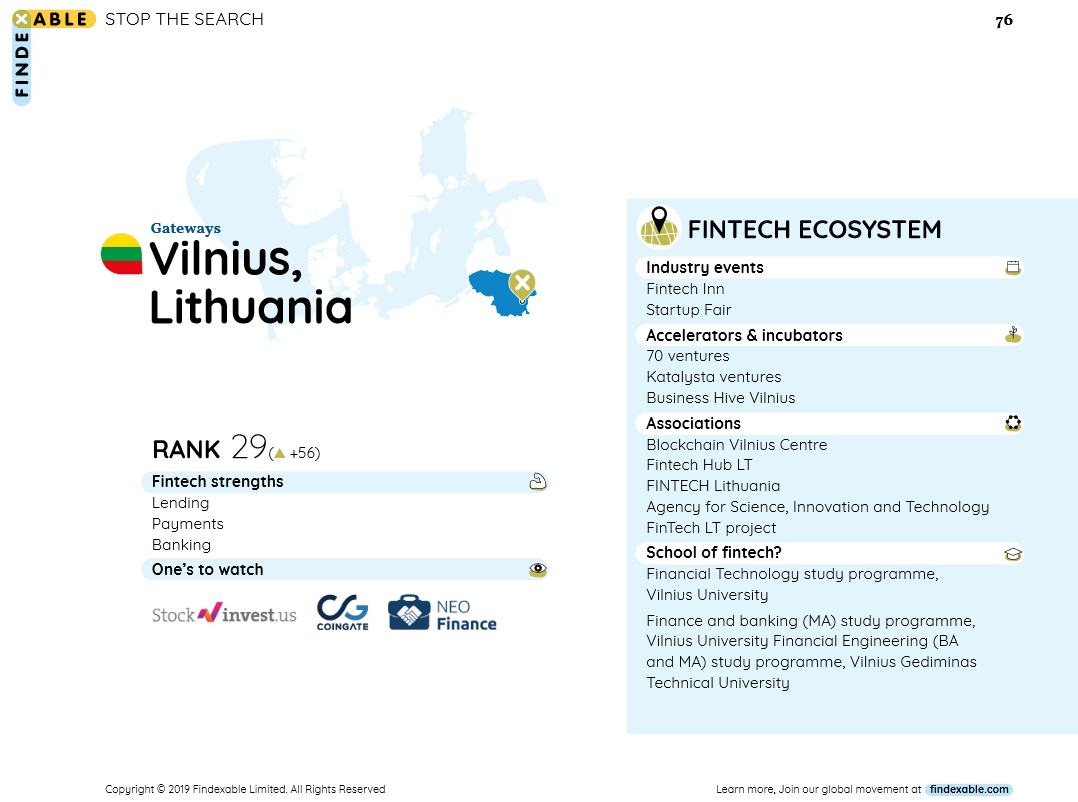 We're more than excited to be highlighted as our country's leading fintech force together with trading platform Stockinvest.us and peer-to-peer lending platform NEO Finance! We see it as a massive achievement for our company and a great reminder that we do important, meaningful work, and we're on the right track.
"The scale of what can be achieved is best shown by Lithuania, coming in at fourth place globally and the high-est-placed small country in the rankings. With a population of about a third the size of London, it's now second only to the UK by a number of fintechs with EU e-money licenses".
Lithuania wouldn't be so high up on the list without the help of local fintech institutions and associations like Blockchain Vilnius Centre, Fintech Hub LT and numerous others, as well as events like Fintech Inn and Startup Fair, that work hard to create a friendly environment and opportunities for businesses to enter the market and build exciting, cutting-edge companies.
As for us, we are lucky to have originated in Europe's fastest-growing fintech hub. With an intent to keep up the good pace, we are actively looking into possibilities of expanding our business both locally and worldwide, hopefully making Lithuania even more attractive place for fintech geniuses in 2020. 
In fact, we will share our short-term future plans in the upcoming New Year's blog post, so keep an eye out for that!
With that said, congratulations to all involved in creating an astounding image for Lithuania's fintech industry. Let's make 2020 even more spectacular! 
Here are more articles from CoinGate that might be relevant to you: