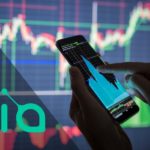 Advertisment

Today, we will be analyzing some of the past price trends of SIA and market predictions to be able to formulate a Siacoin price prediction for January 2020.
Siacoin Overview
Siacoin is a decentralized cloud storage platform that aspires to compete with storage solutions, such as Google, DropBox, Apple, and Microsoft. Sia was first proposed at HackMIT 2013 Hackathon, and its official debut date was June of 2015. The project is backed by Nebulous Inc, which is focused on "Re-decentralizing the Internet."
The Sia crypto is used to store data and encrypt the files as well. The transactions using SIA are verifiable on Siacoin's public blockchain.
Siacoin enables users to rent out space on their hard drives, and those who rent the service pay using the native currency of the network. Also, those that rent memory are able to set their own prices, as well as standards and compensation in case the files are compromised under their hosting.
Unlike most crypto projects, the Sia did not enter the market through an ICO, instead, being launched when the first block was mined.
This is very unusual in the cryptocurrency world. However, so far this has seemed to work out for Sia. Some of its most noteworthy investors include Fenbushi Capital, Raptor Group, Procyon Ventures, as well as angel investors, like Xiaolai Li. With such backing, the project managed to secure $1.25 million in funding without requiring a token sale.
Siacoin Price Prediction: Analysis
Siacoin opened December with a trading price of $0,001621, continuing the bullish downtrend set in November. The decline in price continued throughout the day, closing December 1st at $0,001589.
On December 2nd, Siacoin went below support levels of $0.0015, closing the day at $0,001451.
The next weeks Siacoin traded between $0.0014 and $0.0015 levels, testing the $0.0056 resistance level at various times.
On December 13th, there was a hopeful price increase, with Sia trading at $0,001686 and closing the day at $0,001648. The following day, Sia surprisingly hit a high of $0,001815 but failed to maintain these new gains, closing the day at $0,001658.
December 15th opened at $0,001658, but once again a downward trend started, with the coin closing at $0,001459. December 16th was uneventful in terms of intraday movements, Sia hovering around $0.0014.
December 17th is when SIA lost its chances for a bullish recovery, as the coin hit a new multi-month of $0,001270. The following day, SIA opened at $0,001280 and reached the new $0,001426 resistance level in the latter part of the day, closing at $0,001423.
On December 19th, Siacoin was trading at $0,001381, with an increase of 4,38% for that day. Siacoin was ranked 73rd with a market cap of $57.735.499, at the time of writing.
The resistance, pivot, and support levels calculated by WalletInvestor are:
Resistance Level (R3): 0.00162
Resistance Level (R2): 0.00152
Resistance Level (R1): 0.00147
Pivot Point: 0.00137
Support Level (S1): 0.00132
Support Level (S2): 0.00123
Support Level (S3): 0.00118
Developments
In terms of development, there have been not that many major announcements. The most notable one was made on December 11th, in which the team revealed the new SiaStream feature.
"In November, we launched the alpha for SiaStream. SiaStream allows you to upload your movies and tv shows to Sia, mount Sia as a FUSE drive, and then stream your files back from any media app. We built this app with Plex in mind, but it works with any media app you prefer."
Another announcement was the listing of the coin on the Abra wallet and exchange provider.
Many new collaborations and tie-ups have been scheduled in 2020 for the Siacoin project, but it will remain to be seen if the project will see a boost in price from them.
Siacoin Price Prediction: Market Opinion for January 2020
As there are various crypto news websites that have launched their own Siacoin price prediction for January 2020, we have decided to include some of the most notable ones to give you a better feel of the market sentiment.
TradingBeasts
TradingBeasts forecasted that Siacoin would reach $0.0019448 at the beginning of January 2020. The site projected that the coin would have a maximum price of $0.0025553, a minimum price of $0.0017376, and a closing price for January of $0.0020443. The average calculated price was $0.0020443.
Digitalcoinprice
Digitalcoinprice forecasted that Siacoin would be trading at $0.00242482 in January 2020, which would signify an increase of 74.72%.
Altcoinforecast
Altcoinforecast predicted that the coin would start January with a price of $0.0023, and close the month with $0.0035.
Gov.capital
Gov.capital projected that the Siacoin price on January 1 would be, on average, $0.00625, with the lowest possible value at $0.0053125, and the highest possible value at $0.0071875.
On the last day of the month, the site estimated that the coin would have an average trading price of $0.00776, with the minimum possible value around $0.006596, and the highest value around $0.008924.
Coinpredictor
Coinpredictor estimated that on January 30, Siacoin would be trading at $0.001647.
Bitverzo
Bitverzo's Siacoin price prediction for January 1, 2020, had an average price of $0.006454, with a minimum value of $-0.001402, and a maximum value of $0.014034.
The site also calculated that on January 31, 2020, Siacoin would have an average price of $0.002957, with a minimum of $-0.004791, and a maximum of $0.011080.
Siacoin Price Prediction: Verdict
With this, we conclude our Siacoin price prediction article. We hope that the information we have provided will be of help to you in your future trading endeavors.

coindoo.com is author of this content, TheBitcoinNews.com is is not responsible for the content of external sites.
source: https://coindoo.com/siacoin-price-prediction-january/
TheBitcoinNews.com is here for you 24/7 to keep you informed on everything crypto. Like what we do? Tip us some BAT